About US
Jinwood Shoes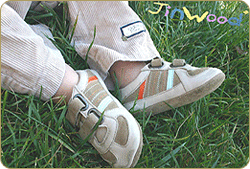 Our soft-soled infant shoes are designed for Infants & Children up to two years old.
We develop the "Jinwood" brand of children's shoes and boots. We want to offer a soft sole baby shoe that offers natural development of the child's instep while offering some support and comfort for when the child begins to walk.
We use real and genuine leather, real suede, canvas, and 100% cotton. These materials give a tender feeling and offers skid resistance for the children's protection. The special leather inner sole reduces shock when children walk on the hard ground. Our soft-soled infant shoes may be one of your best gift for the children in your life.
MANUFACTURING
We also manufacture high quality clothes and apparel for other companies and manufacturers throughout the world. Our minimum orders can be very accommodating for the small to midsize company.
Jinwood Story
When Cara and her husband's family made the soft-soled baby shoes, they were looking for a suitable name for this new brand of shoes.
Cara's son, Jin, was 6 years old at the time. Jin said he would like the company to use "Jinwood" for the name of the new baby shoes. About an hour later, to their surprise, Jin used play-dough™ and made the colorful "Jinwood" logo right on their coffee table. The whole family was amazed. Not only did Jin come up with a name, he also came up with the logo.

The family fell in love with the word "Jinwood". The logo was so delightful. They had no choice! Now they use the logo for the entire brand of children shoes. Jinwood Shoes will do its utmost to make "Jinwood" grow, keeping in step with the clients.


Original photograph of the logo young Jin (6 years old) made that day.


Press Release


Jinwood Shoes All The Way Video

The little girl received pair of Jinwood Shoes as a present and she decorates the Christmas tree with these soft sole baby Shoes. The little girl had a large range of Jinwood's soft sole shoes to choose from, over 300 choices. In the video she picked the shoes she liked herself from the website.
ABC Song
www.jinwoodshoes.com